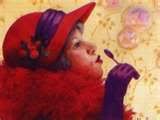 For those of you who haven't visited
this site
, please do! It's a wonderful site for writers to meet up and mingle. Authoress, the host of the site, holds various contests including
secret agent contests
where agents visit and cast their votes for the best submissions. You can't beat that! Just recently Authoress started allowing writers to submit up to 1000 words from their MS for critique. You may have to wait a while, but it's a great opportunity to receive some great advice from experienced writers.
Just recently there was a call for writers to submit a bio for Authoress and mine was in the top three. I know! *grin* Anyway, if you like my blog or you like me, jump on over and
vote for B
(or for the one you liked the best)
. If nothing else, take a look at Authoress' blog!
My bio submission:

Twenty-four year old Authoress McSnarkle graduated from the University of Topeka with a pre-post graduate degree in slushpile diving and tragic novel writing.
After her internship with a publishing company in Yemen, Authoress was able to publish her first non-fictional book about the many uses of cat hair entitled, "Cat Hair Weaving for Geniuses." After a brief stint with the law over skinny dipping in the fountains of New York, wearing only a large red hat, Authoress released her new bestselling novel, "Full Moon in the City."
Authoress spends her spare time blogging and helping aspiring writers of fictional fiction, and is currently seeking a career in writing rap music to Shakespearean verse.