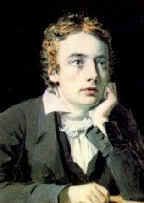 Last week during Positivity Week on Bransford's blog, he mentioned that, as a whole, writers aren't the happiest people in the world (I know, ironic…just read on). This made me think back to my college days when one of my Humanities professors posed a question to the class. The question was; do you think that great art comes from suffering? We talked about poor misanthropic Beethoven, eccentric Mozart, Jackson Pollack, Edgar Allen Poe and his alcohol addiction, and Coleridge and his laudanum addiction (this is when he did his best work…Rhyme of the Ancient Mariner, Kubla Khan, et. al). Does true creativity come from a place of suffering? Are the greatest writers, composers and artists the most tortured of souls?

I was reading up on Keats today because I am planning on writing an HF based on his short love affair with Fanny Brawne, and I came across a quote from him that read, "'the excellence of every Art is its intensity." He said this to a friend of his who asked him why he suffers so much over his love for Miss Brawne. Truly, Keats' best poems were written during the time of his intense relationship with her. I find myself completely drawn, almost mesmerized, by the intensity of his letters to her. Other than Coleridge, I think Keats is the better poet of all the Romantics. He is also the one who suffered the most. Keats almost gave his life for his art, literally.

What do you guys think? Have you ever notice that your best work came from times when you were in a dark place? I certainly do as I look back over my manuscript. I'm interested in your input.